Lance Thingmaker


| | |
| --- | --- |
| Year : | October 2014 |
| Book No. : | None |
| Format : | Chapbook (5.2 x 7.2 inches) |
| Pages : | 22 |
| Cover art : | Nick Gucker |
| Illustrations : | None |
REH Contents
"The Challenge From Beyond"
by C.L. Moore, A. Merritt, H.P. Lovecraft, Robert E. Howard, and Frank Belknap Long
Notes
This is a limited edition of 200 chapbooks.
The book is credited as being made by Lance Thingmaker.
Round-robin story originally appearing in Fantasy Magazine, Sept. 1935.
This chapbook was made for the 2014 H. P. Lovecraft Film Festival in October 2014.
There is silver ink on the cover and brownish paper on the inside with purple/blue ink trying to imitate an old mimeograph machine.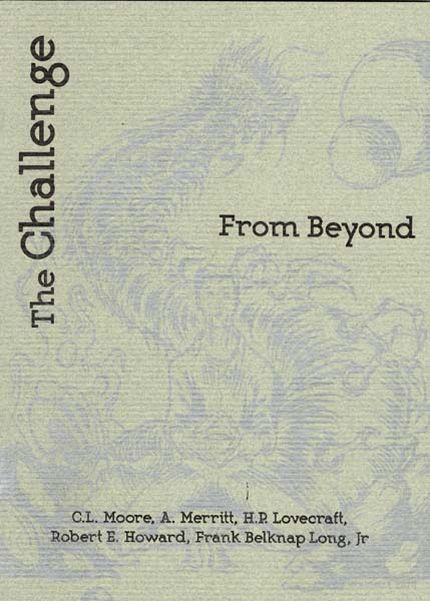 | | |
| --- | --- |
| Other editions: | None |
| Home | |