Alphonso D.J. Alphonso

Year :
April 1, 1990

Book No. :
None

Format :
Chapbook

Pages :
52 (including front and back covers)

Cover art :
Ron Wilber

Illustrations :
Ernie Chan, Chuck Dixon, William Stout

Contents

"The Little People"
Non-REH Contents

"Red Sonja" by David C. Smith (Part 5, serialization of the screenplay)



Edited by Alfonso D.J. Alfonso

A fanzine dedicated to sword and sorcery fiction, especially the writings of Robert E. Howard, featuring interviews with writers and artists in the field, a poem or two, quality artwork, and fiction.

There were a total of 16 issues. The first issue was called THE CIMMERIAN SCROLL but Conan Properties, Inc. requested a name change.

The "Red Sonja" screenplay was serialized in issues 7 thru 16, skipping issues 11 and 15, and was never completed.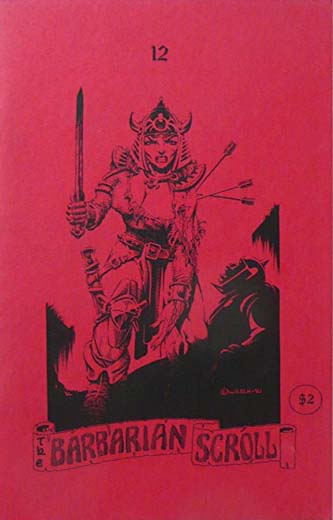 | | |
| --- | --- |
| Other editions: | None |
| Home | |