Nuelow Games
Year :
October 2011

Book No. :
NLF005

Edition :
1st

Format :
eBook (pdf)

Pages :
89

Cover art :
Walter M. Baumhofer
from ADVENTURE dated March 1, 1935

Illustrations :
Larry Elmore, Karl M., Jason Navaez, Jeff Preston, Derek Stevens





"Editor's Preface" by Steve Miller

"Fist and Fang"

"The Pit of the Serpent"

"Sailor's Grudge"

"The Bull Dog Breed"

"Winner Take All"

"Waterfront Fists"

"Champ of the Forecastle"

"The TNT Punch"

"Alleys of Peril"

"The Sign of the Snake" (Revised by Steve Miller)

"The Violent Worlds of Robert E. Howard: A Roleplaying Powered by ROLF!"



Editor: Steve Miller

Editor Steve Miller did some rewrites of "The Sign of the Snake."
Some of these amount to mere editorial changes, such as switching Bill back to Mike, but others were far more extensive. He took a stab at shaping the story in a way that makes it more like the other Costigan tales, trying to bring the authorial voice and overall tone of the story more in line with the rest in this book. In doing that, he also added a few references to characters and events in the other tales in the book, hoping to give a stronger illusion that it was a Steve Costigan adventure from the get-go.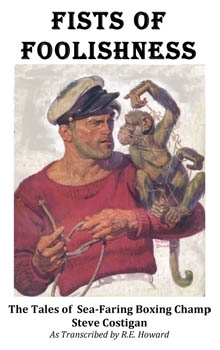 | | |
| --- | --- |
| Other editions: | None |
| Home | |