Bastei Verlag KG

Year :

October 1982
October 1983 (2nd printing)
October 1988 (3rd printing)

Book No. :
ISBN-10: 3404131622
ISBN-13: 9783404131624

Edition :
1st

Format :
Trade Paperback (1st & 2nd printing)
Paperback (3rd printing)

Pages :
590

Cover :
Carl Lundgren

Illustrations :
Michael Whelan, Patrick Woodroffe, Chris Achilleos, Helmut Wenske, Johann Peterka, Peter Andrew Jones, Tim White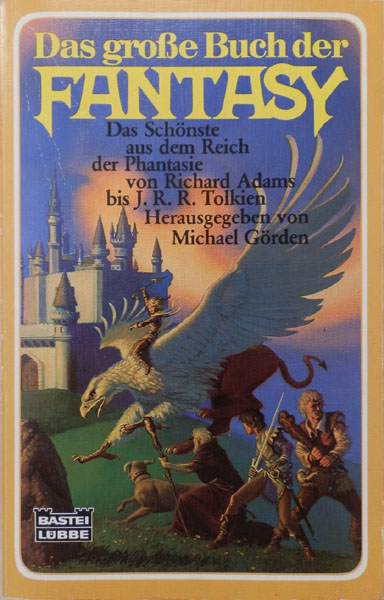 | | |
| --- | --- |
| Other editions: | None |
| Home | |
"Die Ruine des Schreckens"
("Rogues in the House")

Non-REH Contents
Contains excerpts and short stories by Jonathan Swift, Lewis Carroll, H. P. Lovecraft, William Morris, E.R. Eddison, Poul Anderson,Edgar Rice Burroughs, J.R.R. Tolkein, Fritz Leiber, Karl Edward Wagner, and more.
Language: German
Translated by Lore Strassl
Edited by Michael Görden
Bastei Verlag No. 28102
In the acknowledgements section of this anthology, the REH story is referred to as "Der rote Priester" under which title it was published in CONAN (Wilhelm Heyne Verlag).

There actually is another story called "Die Ruine des Schreckens" ("The Castle of Terror") by Lin Carter & Robert E. Howard published in CONAN VON CIMMERIEN (Wilhelm Heyne Verlag).